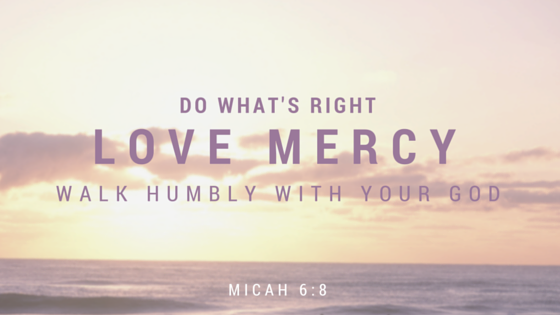 Our president, Mary Schaller, has been on sabbatical this summer. As we headed into that season back in June, I was rejoicing to see how God had brought us to the time and place when Mary could step away for a time of refreshing and renewal, of seeking God and discerning His direction for the next season of the ministry of Q Place. For me, some of the intensity of the previous months had lifted and many operational pieces were slipping naturally into place. Our roles in the office were clearly set before us and tasks were either clear or becoming evident; we were steadily and diligently working through them—like building, filling in the gaps. I anticipated a wonderful, stable kind of preparation, a slower-paced span of time when we would not need to make many decisions, but just diligently follow plans that we had laid out.
Mary gave us this Scripture as a guiding message for the summer:
O people, the Lord has told you what is good,
 
and this is what he requires of you:

to do what is right, to love mercy,

and to walk humbly with your God.
                               – Micah 6:8, NLT
Other Scriptures have joined this one, with layer upon layer of guidance and encouragement—to abide in Jesus, to be assured that He is our Rock, to pray for harvest workers, to minister to the Lord as the early believers in Acts did and to follow His leading for the work that He will accomplish and spread.
But as it turned out, the summer hasn't been the smooth, steady, uneventful span of time that we had envisioned. Through the weeks, a number of unexpected events came along that required adjustments in our plans—events like a hard drive crash, a sudden change in our IT support, a serious eye injury, and a staff member's announcement of a cross-country move. We found that some summer projects grew in intensity and in the time and effort required to resolve them. We also needed understanding about how we were approaching our working relationships, and how we could improve in the way we work together. I have found myself on a sort of roller coaster—soul-searching again and again, and then experiencing renewed assurance as our core lead team members, John, Jeff, Flavia, and myself, have shared together in the concerns, in seeking God, and in moving ahead.
And then we received an amazing gift that had to be from God's design. The Friday before the Global Leadership Summit, we received word through our Office Manager, Kim Taylor, that a friend had tickets to offer us—and all six of us in the Chicago area could go! The Summit blew me away. Throughout the sessions, my pen filled all the pages of my GLS notebook; and in the commute home each day, I went back through them as John, Jeff, and I sifted through the content of the messages, discussing how we could apply what we heard in the culture of our ministry. Since then that notebook has turned into a sort of journal. I have gone back again and again to circle key points, highlight applications, consider the Scriptural grounding of each principle that was presented, and process the content into my actions and decisions within our team.
Now, as we look forward to Mary's return, I am so encouraged that she, along with almost all of the field staff, heard the same messages throughout the GLS. We're all praying for connection and unity as we compare notes and take stock of the summer, and for God to continue to show us how to do what is right, to love mercy, and to walk humbly with Him into the next chapter of this work that He is accomplishing.
Karen Schleicher
Operations & Publishing Team Leader