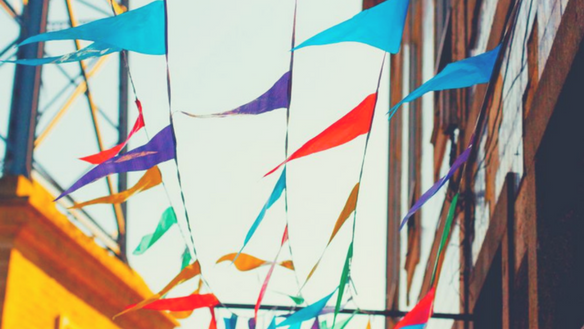 I found myself in downtown Chicago in a public aid clinic–again–because little Ella needed to have another oral surgery. She's not my daughter–she's the daughter of my friend, Beatrice, a refugee from East Africa who has been resettled here in the U.S. for about 6 years now. Beatrice came here with her two daughters and was pregnant with baby Ella at the time. I've gotten to know this little family pretty well over the last couple of years and more recently, I find that our lives are becoming increasingly connected. I don't know. I've just felt a nudge that in this time, in this place, I'm called to walk alongside her.
But it's interesting. Everywhere we go together–for instance to the clinic the other day for Ella's procedure–people respond with such (this is the only word I can come up with) awe.
Wow! It's amazing you're doing that for her. 
It's so nice of you to do this!
God bless you for helping this family.
And then it's me who's in awe. At them! Impressed with me? If they only knew about all the other things I'd honestly much rather be doing with my time!
Yet, in spite of myself, something continually compels me to act, to walk with Beatrice.
What is it?
What's your motivation for the kinds of things you find yourself doing?
Grace
During one of my not-so-regular quiet times, I was given an "answer"–or at least an explanation–to that question in Paul David Tripp's daily devotional, New Morning Mercies:
We keep trying it, even though we've been told again and again that it's impossible. It causes us to be either delusionally proud or irrationally fearful. IT causes us to hide in guilt and shame, fearing the only One who can help us. In fear, we work for what we have already been given. In weakening hope, we seek what we already have. In redemptive delusion, some of us boast about what we did not earn or achieve on our own. In our misunderstanding, we envy what we think others have and we wish we could acheive what they have accomplished. We spend our lives feeling not only that we haven't measured up, but also that we'll never measure up. We wonder what God really thinks of us, and the thought of his presence produces more fear than comfort in our hearts. It all gets to the very heart of the gospel.
Jesus lived the perfect life you and I never, every could have lived, and now his righteousness is credited to our account. He died the death that we should have died. His death satisfied the Father's anger with our sin. He rose again, conquering sin and death so that we would know life eternal too. All of this was done so that the chasm between us and God would be bridged, so that we would be fully and eternally accepted into his family, never again to face his rejection, never again to pay the pantly for our sins, and free from having to measure up to his standard in order to garner his love. What needed to be done, Jesus did. The work is complete.
Now, having said that, it is true that you have been called to work. You have been called to give yourself to the work of God's kingdom and to daily obey the commands of the King. You've been called to recognize that your life is no longer your own because you were bought with a price. But the work you do is never to be done in order to earn something. The work you're called to do is to be done in celebration of something. You don't work to earn God's favor; rather your work is a hymn of thanks for the favor that Christ achieved on your behalf. You don't have to wonder if you've worked enough. You don't have to fear that you'll mess up and get booted out of the family. You don't have to fear seeing the back of God's head. You don't have to be haunted by the question of whether you've done enough for long enough. The bridge of impossibility has been walked by Christ. The job is done. Your relationship is eternally secure. Now, in thankfulness, go out and do his work.
His work. Giving ourselves over to it. Francis Chan calls it the work of Crazy Love and by grace alone, somewhere deep inside, I am aware that I've got so much to be thankful for.
Considering what my Savior did for me, isn't loving someone else the very least I can do?
~Pamela Klein, editor of On Q