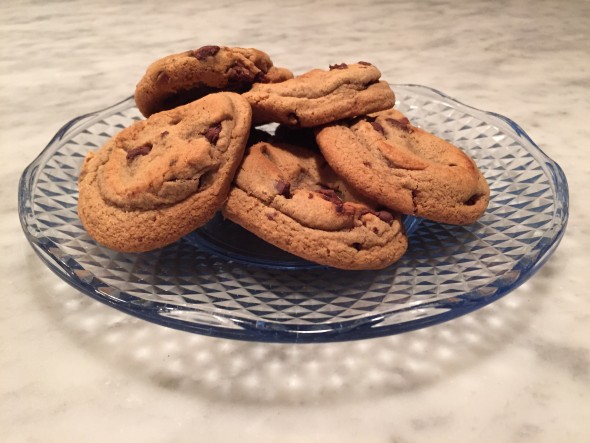 What Cookies Can Lead to.
Chocolate chip cookies brought us together.
Pam and her two sons had moved into the house next door and I wanted to welcome them to the neighborhood. I introduced myself, handed over the cookies, and retreated to my home. As outgoing as I am, it was a step outside my comfort zone to walk to her front door.
The cookies didn't lead to much but I'm not sure I expected it to lead to anything. I was just being neighborly.
Almost a year later, we adopted a yellow lab named Dakota. Around the same time, Pam's cousin needed a home for his black dachshund, Jasper. Dogs romping through our adjoining yards made easy what cookies and friendly waves had not yet been able to accomplish: We had a reason to linger and chat.
During those conversations I found out that Pam's divorce had cut her off from community and left her unsure about church, God, and His people. For whatever reason, though, she seemed comfortable with me and we'd sit in her garage where she had her home office set up and share stories of our lives.
I learned about her mother and the amazing hostess she was. I met her Aunt Martha who had just moved to an assisted living community nearby. She told me about her father, a man she adored and esteemed, who lived too far away in Florida for her to see regularly, and about his second wife, who made sure she had as little contact with him as possible.
One day when I stopped by after work, she was upset and told me she needed to get to Florida as soon as possible—her brother had called to say her father was dying. His cancer had returned. When I saw her several days later, she shared that she had not been allowed to see or speak to her father. He died a few weeks later. His secretary called to let her know. I went to the local memorial service Pam organized and listened to her eulogy of her dad.
As Christmas approached, I wondered how Pam would be spending the day. Her boys would be with their father. When I asked about her plans, she said that she didn't know what she'd be doing, but that it would be low-key.
Walking back across my yard to my house, I sensed I was supposed to invite Pam for Christmas dinner. Growing up, I had only shared the holiday with relatives. I debated with myself for several days, but knew what I wanted to do. Welcoming Pam to our table on Christmas Day and introducing her to my parents would be another step in our friendship. When I invited Pam, she told me she had planned to be with Aunt Martha, so I invited both of them. We really enjoyed each other's company that day.
Last week Pam told me that she had to move because the landlord was putting the house up for sale. Her next comment struck me. She said, "I don't want to move away from you." I didn't want her to move away, either. A few days later she told me that there was a house for rent a half mile from our houses but that her boys would have to switch schools for them to live there. I asked her to consider how important community was to her. If having neighbors who know her and her boys was important to her, I said, she should let that house go and keep looking. The next day she saw a listing for a house just two doors down from hers! She is staying in the neighborhood.
Community started with cookies.
Jenn Nahrstadt
Friend of Q Place