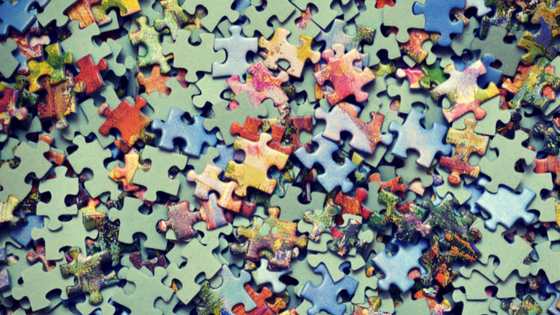 Do you need to step back?
When I read Linda Chontos' story about a 1,000-piece puzzle she assembled recently, I found myself resonating with her self-proclaimed obsession: GET.IT.DONE. Linda and her husband found that, instead of getting easier as the pieces of the puzzle diminished, the puzzle became harder. No matter what she did—rotate, flip, try again—certain pieces just seemed not to belong. But they were in the box! So surely they had to go somewhere!
Have you ever wanted to GET.IT.DONE for God? Linda said, "There have been times in my life when I thought I knew the way things were supposed to work out. Everything seemed to be in alignment; the circumstances looked destined to go a certain way. Yet, nothing went the way I thought it would. None of my well thought out plans worked. No matter what I did, things just wouldn't go the way I thought God wanted them to."
Perhaps one of the "puzzle pieces" you thought was supposed to fit into the framework of your life in this new year was intentionally connecting with your neighbors and friends, serving with them in your community, or even hosting a Q Place. You felt pretty confident that these things were supposed to fit into your puzzle this year, but they are  just not coming together—at least not the way YOU thought they should.
Maybe, like Linda, you're thinking you just need to try a bit harder.
But what  Linda said next really struck me. "There are times when we need to acknowledge that we just might be trying to manipulate God into doing things our way."
Ouch. Guilty as charged. Even when I have prayed to the Lord, I do not always wait on the Lord.
And about that trying harder thing. While all of us are so busy focusing on what we think God may be asking us to GET.DONE for Him, God may be asking us  to step back momentarily—pause, and see what He is doing—in order to gain a clearer picture of how the puzzle pieces we are holding in our hands actually fit.
The pieces will come together—but only in His timing and in His way, not by our striving.
God has been asking me to step back a bit in my own life so that I might gain a clearer vision of what He is doing and wants to do in and through me. Could He be asking you to do the same?
While none of us may ever see the completed picture that our trust and obedience is part of, we can trust Him to complete His work.

He will GET.IT.DONE.
Jennifer Nahrstadt
Friend of Q Place