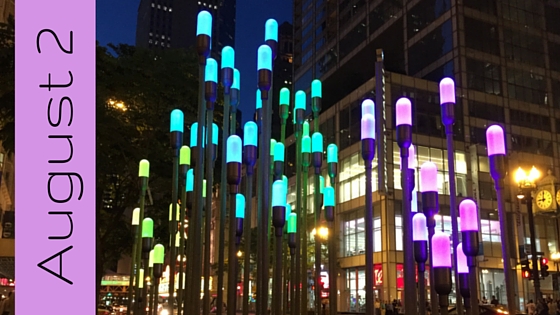 Summer is the perfect opportunity to jumpstart a connection revival in our neighborhoods.
Two years ago, I began being intentional about reaching out and getting to know those who lived around me and discovered that organizing one thing each summer month helped to get things rolling and enhance connections with my neighbors. Can you imagine? Some of them I met for the very first time even though we had lived down the street from one another for as many as 14 years! I bet you can relate.
We are living increasingly isolated lives. But even the smallest effort to move toward others can create great impact. I've actually learned that it just seems like everyone else is waiting for someone else to break the ice!
Fortunately, the American calendar is chock full of opportunities that make this a pretty easy thing to do.
Did you know that the first Tuesday of August is National Night Out? Talk about low-hanging fruit!
First established in 1984 by the National Association of Town Watch, National Night Out is an annual community-building campaign designed to promote community partnerships and neighborhood camaraderie. Last year, one of my own neighbors took advantage of the chatter around this yearly event and coordinated "Cookies in the Cul-de-sac!" I loved this!
Across the nation, many people and communities will organize robust block parties, but if you're just getting started with neighboring, keep it simple! Cookies in the Cul de Sac was a great, easy-to-pull-together idea and here are a few more:
Donuts in the Driveway
Goodies in the Garage
Parfaits by The Pool
Pitas on the Patio
Chocolates in the Common Room
Rice Krispy Treats on the Rooftop
Munchies at My Place
Baseball BBQ
You get the idea. National Night Out is Tuesday, August 2 and there are a bazillion ways to do it easily and do it well. And who knows? Maybe National Night Out will be all you need to get ready for August 10. Because–or maybe you already knew this?–it's National S'Mores Day!
Summer is here. It's a great time to increase connections by taking advantage of longer days, special days, warmer weather and the desire to enjoy being outside. Why not lean into summer, extend some invitations, and let go of expectations? Your ice breakers might just be the start of some meaningful relationships.
Becky Henchman
Friend of Q Place 
and author of Eat. Play. Thaw.