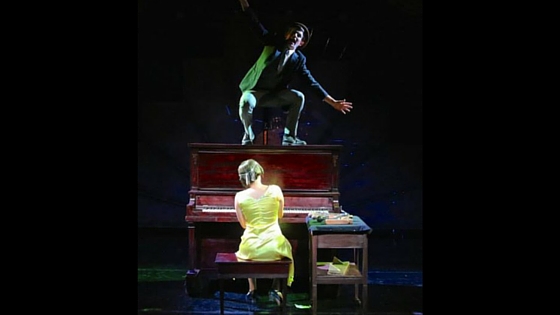 When our son Benjamin first told his dad and me that he was seriously considering leaving what most of us see as life's prescribed pathway—a four-year college experience—mid-way through his junior year…to pursue becoming a stuntman, I remember his father's one word response.
Stuntman?
Feeling a little empathy for my husband and me at this juncture? Thanks!
Actually, Benjamin's pronouncement wasn't completely out of left field! His imagination, giftings, life-long love of entertainment, and passion for adventure had provided ample context for what otherwise could have been a total shock. (Too bad the picture of him atop that piano wasn't a video! What he did while up there would help you understand!)
Perhaps one of the biggest surprises for my husband and me came after we had time to reflect on this first of many crucial conversations with our son: we learned about the power of asking a one-word question. Although when Jeff originally blurted it out, I'm not sure he intended that it would prompt a deluge of information, but it did.
In his eBook Great Leaders Ask Questions (see our post from this past Monday), Bob Tiede talks about one-word questions:
Another effective form of question is to simply listen for emotionally charged words and then repeat them with a questioning inflection in your voice. For example:
She/He says: "What a frustrating day!" You ask: "Frustrating?"

She/He says: "I am so exasperated!" You ask: "Exasperated?"

She/He says: "I am just going to quit!" You ask: "Quit?"
From our own experience with Ben, I can tell you that Tiede is on to something. Emotionally charged circumstances are difficult. Ben was talking about his life here! He was wondering deeply about his dreams, his hopes, his pursuits! And how best to walk toward them at twenty years of age. But as Jeff listened and then simply responded back with one word that he'd heard him say, we gained much more than we could have ever hoped for: a glimpse into how he'd like to enter his field of choice, an idea of his plan to do so, and information about a stunt academy in Norway we never even knew existed.
We're still in the middle of walking alongside our son, praying and helping as we can and should—and you can be sure we're asking plenty of questions along the way. But as we're listening to his responses, we're also trying to purposefully listen for those emotionally charged words, repeat them back, and get ready to learn a WHOLE LOT more.
Pamela Klein
On Q Editor