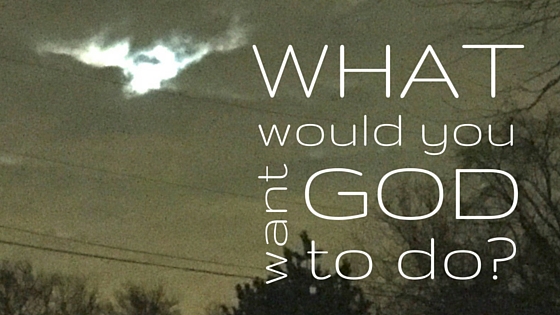 Simple questions result in eye-opening impact.
My friend who claims to be an atheist still emails me even though I haven't seen her since we moved out of the area two and a half years ago. In our emails, we catch up a bit but often also write about spiritual questions. Just recently I asked her if she still considers herself an atheist. She responded that she did, giving me some of the reasons.
Then I asked her, "What would you want God to do to validate his existence and bring you to belief?"
Her response: "I love your question about what it would take for me to believe in God! It has been consuming my thoughts lately, and it has some sparked interesting conversations with those I dare to bring it up with. Here's what I have so far…" and then she went on to describe what she believes.
Wow! That's what I love about asking questions. Seeing my friend open up and become engaged in the question that I had asked is so much better than what would have happened if I had told her why I believe God exists.
I believe in the value of asking questions in order to facilitate discovery because I have seen that it works! Here's more proof from another friend of mine:
I am actually a product of the Q Place discovery method. When I wanted to learn about the Bible and the principles of Christianity, I joined a Bible study group. It was called Foundations for Faith. I DID bring in my questions and my concerns—many of them. The group never criticized me or judged me for my questions. They also didn't answer my questions. They allowed me, through the Bible study, to resolve my issues. I accepted Jesus Christ as my Savior at the end of that study. I will be forever grateful for the approach of allowing me to dig into the Bible myself and find out what it has to say—what God has to say—what Jesus has to say. I have stayed in Bible study every year since then and have found the richness of continuing to learn and the richness of helping others to discover for themselves.
What do you think would have happened if the members of that Bible study had piled on answers when my friend was still wrestling and trying to figure things out for herself?
I am so grateful for a way to help people think through what they believe. I am also so encouraged to see the whole process—starting when people aren't sure about God, when someone they trust engages them with simple, open-ended questions… and then exploring the Bible in a place that's safe for questions…and then coming to know Jesus and discovering His Word in a whole new way…and then engaging other people with questions and helping them make discoveries!
The impact is powerful. It's a way of making disciples who make disciples!
Fran Goodrich
Q Place SW Regional Catalyst