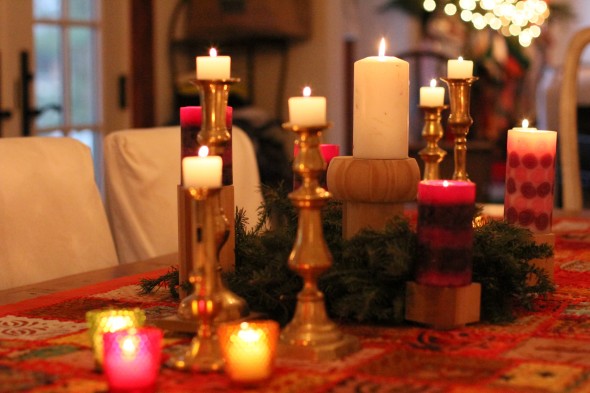 Host a Christmas Party…About Christmas!
I hosted a Christmas Party that was actually about Christmas with my neighbor, Barbara, last year in mid December. But I'll confess right here: I wasn't thrilled at all about the idea at first! For 2¢ I would have scrapped the whole thing! Several other neighbors were hosting holiday parties up and down the block — the kind of which I felt most people were more accustomed to. Ours was "risky" and quite frankly, it felt monumental to do.
The "chicken factor" in me was intensifying!
But despite the fact that we told everyone we invited beforehand that this was a Christmas Party about Christmas, and that we would read the Christmas story out loud and sing a carol or two at the end, twenty-five neighbors showed up! Together we enjoyed dessert, got to know each other a bit more, and, yes, read the Christmas story from The Message. After singing "Silent Night" together, new friends hugged and wished each other a "Merry Christmas."
Was it worth it? Was this "risky" Christmas party that actually was a Christmas party, a good idea? Yes! That night, Barbara and I discovered that our neighbors were, indeed, open to talking about God. And for even those who could not attend, new connections were forged. One of them invited me to tea or lunch after all the holiday rush slowed down. And today, I have a Q Place group in my neighborhood that was born out of this Christmas Party last year!
I experienced first hand that, indeed, the holidays are a time of year when people are most open to spiritual things.
In the short time left before Christmas 2015, it's very likely that many of us still have a few holiday parties on our calendars — some of which we may actually be hosting! There's still time to make any holiday party a true Christmas party!
Here's how:
Choose one or more of the following easy elements for a Christmas Party with a Twist:
Provide for unstructured time with festive refreshments. Allow time for lots of spontaneous interaction and provide plenty of food and drink. Christmas cookies and hot cider are always favorites. Also provide name tags if people will not know each other.
Allocate about an hour for some fun group interaction using these Christmas Sharing Questions. Be aware that guests with different religious backgrounds may have never celebrated Christmas. Also, some guests may have bad memories or negative emotions associated with Christmas rather than feelings of endearment. Be sensitive to this and help all your guests feel welcome and included in the discussion.
Consider including an ornament exchange or a fun white elephant grab bag! Limit the cost  to $5.
Read the Christmas story, Matthew 1:18-25 and Luke 2:1-20, from The Message. (Using The Message will help people who are familiar with the story to see it with fresh eyes, and the reading will be easier to understand for those who are not used to the Bible.)

Consider passing out printed copies of the passages, asking those who feel comfortable to read one section at a time. This way, people can hear andsee Scripture as they discuss it. Plus, they can take it home.
Invite everyone to share their general reaction or go deeper by asking questions like those below.
Of course, don't become the answer person or teacher or be confrontational. Allow people simply to discuss and respond to the Bible narrative, respecting each person's viewpoint. These questions will help start the discussion:

What's familiar to you in this reading? What's not?
What surprises you?
How do you think this event impacted Mary, Joseph, and the shepherds?
What kind of impact, if any, does this story have today?
What strikes you personally as the most meaningful part of this story?
You could wrap up by singing a carol or two together (a Capella). "Silent Night" with candles always seems to provide a holy pause for those who may not experience another one the entire season. Be sure to provide copies of the song for everyone.
Merry Christmas!
Fran Goodrich
Southwest Regional Leader
---