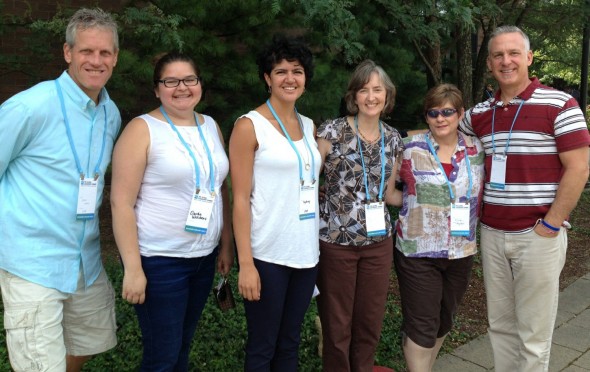 Q Place – At the Global Leadership Summit
An incredibly generous man gave the Chicago based Q Place team tickets to the Global Leadership Summit at Willow Creek. In addition, Jan Teat attended remotely in Fort Wayne, Fran Goodrich in Denver, Susan Burbank in Seattle and Mary Schaller in Spokane. All were galvanized by the world class presenters and came away stirred by the powerful ideas shared.
The Chicago Team's major takeaway was a dominant theme for GLS 2015, centering around the concept of creating a safe organizational and corporate community culture for failure and creativity. Many speakers addressed this issue from a variety of angles, asserting that in an environment of belonging and purpose, of empowerment and value, people feel safer, are more creative, give and receive feedback better, take more responsibility and initiative, are more courageous, feel braver and are much more likely to take risks.
Another powerful theme woven throughout revolved around this question, "How will you make yourself into a great leader?" It got asked in so many ways:
"Will you make your section or area of responsibility a 'pocket of greatness'?"
"Will you practice self sacrificing love for those you work with?"
"Will you continue to think about your vocation not as a job, but as joining a dream that allows you to become part of something larger than yourself?"
Kim Taylor put it this way:
"GLS was a great opportunity to be reminded and inspired, awed and humbled, and I laughed and cried. I enjoyed spending the two days with the Q Place team, and what an experience to do it simultaneously and remotely with other team members at other locations! I especially liked Bill Hybel's opening session on the "Five Intangibles of Leadership," but I was struck by the first one he mentioned, GRIT, and the retelling of the story of the little red engine that could 🙂 I learned I really need to get a "White Hot Why," or as Jim Collins put it, a "BHAG." I was reminded that without a "big hairy audacious goal"  I'll never know where I'm going. And although there were several other awe-inspiring speakers and way more insight than any one of us could possibly duplicate here, I liked that at several different times we enjoyed laughing with Michael Jr.! What an incredibly meaningful experience to go from the heights of God-inspiring speakers to a gut-busting laugh. Perfectly epic."
Q Place is grateful for the opportunity to have been present at GLS, and we look forward to moving beyond being inspired by what we heard—and putting it into action!