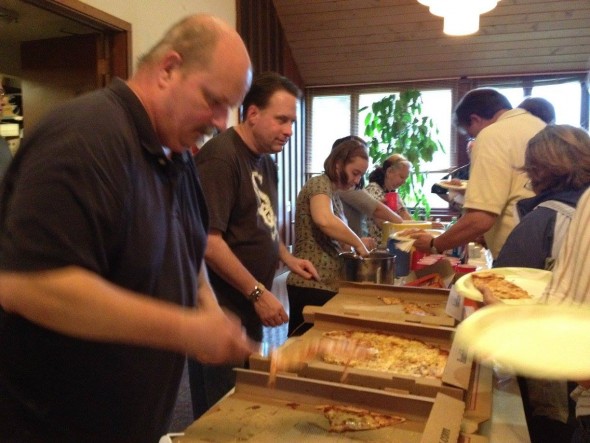 One of the things I appreciate about being part of a small church plant is that I know pretty much everyone; and everyone I know feels pretty integral and needed. Small in number often means all hands on deck when it comes to serving in the many and varied ways God is calling each of us to do so. And all hands on deck—serving together—rocks. I'm thankful for the chance to share a few experiences here and a bit about what we've learned along the way.
Bob, one of our "founding members," was homeless. Very caring and giving, he literally felt the need for the homeless to have a hot meal and, so, began hosting a Sunday afternoon BBQ in a local park, cooking whatever he had available on his Coleman stove and grill. Soon, he was feeding 20-30 people weekly.
But could Bob sustain this alone? No! So we came alongside and pitched in to help, providing, preparing, and serving food. Not only did we enjoy serving together, meeting those who came to eat was awesome.
Soon, serving together extended beyond ourselves and we joined forces with other churches in our community who'd been working together on making hot meals available in the area every evening. Once each month, we now take on one of those meals—and since the population we were feeding in the park grew well beyond our village's rules, we've teamed up with another church who had a building, but not enough people or resources to provide the food. We've moved inside, and work with other folks from our host church in their building. What a great opportunity to serve our community while serving with our community!
Then there's Claudette.
Claudette suffers from a brain tumor and other health problems and needed a better place for her and her fifteen-year-old son to live. That's when a bunch of my church family volunteered to help pack up, move, and clean her old apartment. One couple, brand new to us, called on a friend to help unpack at Claudette's new place, even though they barely knew us or her! What a great demonstration of Christian love and support! For both Claudette and those who served her alongside us!
And incidentally, Claudette has served at EVERY Second Sunday Supper! Can I get an AMEN!?
In my years of bringing believers and the spiritually curious together to serve in the community, here's what I've discovered:
Don't know how to help? Just be on the lookout! Notice! There are needs in the community YOU can help meet. You should always "make the most of every opportunity" (Colossians 4:5, NIV).
Be BOLD in ASKING people to help alongside you! "The spirit God gave us does not make us timid" (2 Timothy 1:7, NIV). Most of us wait to be asked even if we want to help. Provide the chance for someone to do so!
Like the Nike saying goes, "Just do it!" Rake those leaves for that elderly neighbor, feed the homeless, give that low income family a ride to their medical appointment. "If anyone, then, knows the good they ought to do and doesn't do it, it is sin for them" (James 4:17, NIV).
What God can do with a group comprised of both believers and nonbelievers is amazing. As we consider this message of Jesus, "For where two or three gather in my name, there am I with them" (Matthew 18:20, NIV), let none of us forget this: When we work alongside each other, HE is among and alongside, too, using that experience to make himself known to ALL who'd served.
Kim Taylor
Q Place Office Manager