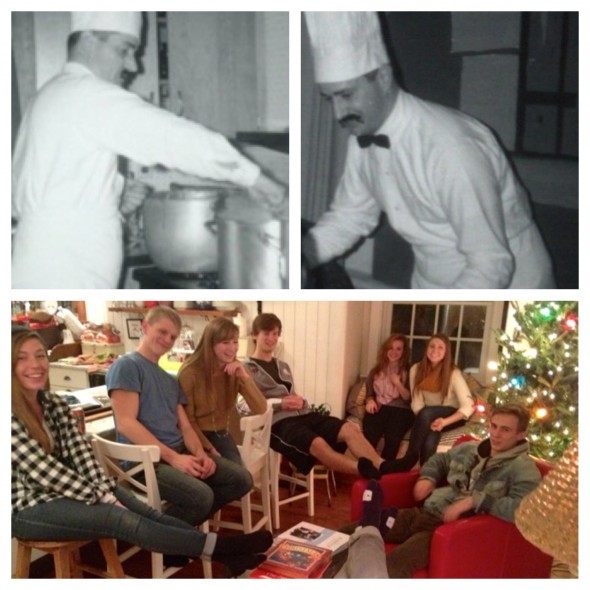 When my oldest son, Benjamin, arrived home from college on his first break during his freshman year, he brought some friends home, too, anxious for his siblings, dad and me to meet his new brood.
We were excited to do the same. Who were these kids we'd seen so much of on Facebook and Instagram? My husband, Jeff, was especially excited—he'd have new people for his standard routine of jokes and stories!
Soon after everyone arrived and introductions ended, Jeff began his shenanigans. And as I heard the laughing from his captive audience, my mind couldn't help flashing back to memories of my own dad doing the same. He had his shtick, too.
But of all his tricks, THIS was Daddy's favorite:
Without question, at least once while my friends visited, we'd eat some of his famous Italian food. My dad was known for his cooking—his amazing marinara sauce, meatballs and garlic bread (among many mouth-watering others) —and when my mom handed out Aunt Adelaide's hand-sewn spaghetti bibs to everyone sitting around the table, all gladly obliged knowing a great feast was coming.
Bibs tied, we'd pass the bread basket and olives while mom served the salads, waiting, as dad (chef hat on) stood at the stove, dishing up the pasta. One by one, he'd present a beautiful, steaming, heaping plate of Vermicelli #9 (our favorite variety of thin noodle) and meatballs in front of one of my incredulous friends. I don't think any of them had ever seen such a massive amount of food all at once before; Dad super-sized long before McDonald's did.
He was known for his extremely generous portions.
But here was his shtick: dad would always pick someone ahead of time—maybe the shyest or most obnoxious of the bunch—to serve last and surprise with a ridiculously small amount. After delivering mounded plate after mounded plate with great flamboyance to everyone else, dad would slip half a meatball, a few measly noodles and little puddle of sauce quietly in front of his unsuspecting victim.
When they did notice, Dad would immediately apologize. "I'm so sorry we ran out!" That was my cue to roll my eyes and assure my friend that my dad was, indeed, joking. Then Dad would ask in an Italian accent, "So-a, you want-a more-a?!"
Of course they would! We'd all laugh, Daddy would return to the stove, deliver the last heaping plate—usually the most heaped of all—and then we'd all dig in.
After a round of second helpings, Dad would announce, "There's still more!"
"No thank you," we'd muster, belts loosened, eyes bulging.
Dad, feigning great disappointment, would bellow back, "WHAT? You no like it?"
Then came the compliments my dad loved to hear and he'd finally leave us alone…until dessert and the whole routine would begin again.
______________________________
Invitation. Welcome. Conversation. Laughter. Eating. Plenty. More. Generosity. Play. Beauty. I am grateful for the legacy passed on to me and for the abundant plates of pasta or pizza or cinnamon buns now served up in my own kitchen that remain reminders for me of what love looks like.
Pamela Klein
On Q Editor