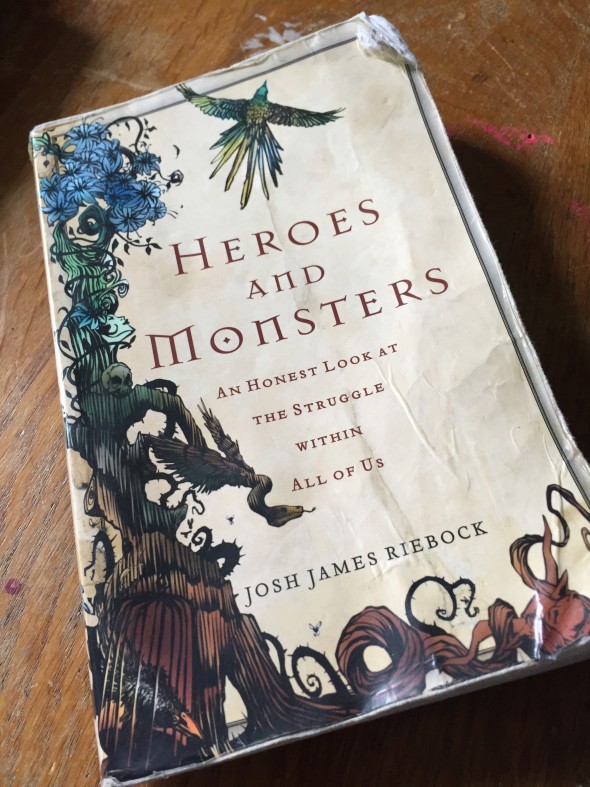 My eldest son is beginning to discover the great world of good books in college, so you can bet that when he suggested I read one that strongly impacted him, I jumped at the opportunity.
Heroes and Monsters, An Honest Look at the Struggle within All of Us, is author Josh James Reibock's own story exploring the complexities of the life he experiences—indeed the one we also do—a world of contradictions and oxymorons and paradoxes sprinkled only every once-in-a-while with hints of redemption. A world, for sure, that makes it hard for so many to dare to believe in the God of Love.
I embarked on my reading enthusiastically, loved seeing what sections my son had highlighted that gave me more glimpses into the young man he's becoming, and page by page enjoyed the beautiful, honest and ugly telling of Josh Reibock's journey of learning to love the divine companion who interrupted his life as a boy.
We know him as God. Josh calls him Jack.
I pray you'll receive the joy I did and become just as inspired as I was by the following section on love, where Josh thinks about Ditka, the puppy he and his wife, Kristen, just adopted.
Pamela Klein
On Q Editor
"Ditka shifts to get comfortable and I can't help but wonder if this little animal understands anything that I communicate.
Does he have any idea what I mean when I say, "I love you"? Does he have any idea why I pet him, carry him, squeeze him, give him water, throw the ball to him, wrestle with him, take him for walks, and feed him those chicken and liver treats that make my hands reek like a dead hamster? Ditka exhales big, and I'm wondering if he knows how much I love him, how badly I want him to know, and if I'll be able to rest until I'm certain? Yes! It's that essential! He needs to know that I love him, because obviously that moment will prove to be mystical to him…ease his heart and light his way and rescue him from self doubt and so many misguided quests!…
Gosh, I want Ditka to know how deeply I care, and how hard I'm trying to tell him. But does he?
Jack must wonder the same things.
Even in the dark here, I feel Jack with me. Weird, but I do. And I know—I'm not sure how, but I do—that even through this darkness, Jack is telling me that he loves me. Somewhere deep inside, I know this to be true, and I know that darkness is only one of his ways of saying that. Jack does so much to tell me that he loves me: sunny March days, zebra stripes, wasabi sauce—the way it explodes in my nose and mouth—great paintings and books, bold coffee, and naps on the couch. He says it a million ways, speaking it in a thousand languages, but in every language it's always the same message. All of these things, these gifts, these moments, are his way of shooting up flares, signaling me, and everybody about his love. Of course, like Ditka, most of the time I have no idea what Jack is trying to say.
Knowing that Jack is real is one thing. Knowing that his love is real is quite another.
…just as [Ditka] flops onto the mattress, I'm reminded how often the greatest challenge of love, any love—man to dog, parent to child, friend to friend, husband to wife, stranger to stranger—is to communicate that love. Communicating that bonfire within us, and communicating it in a way that someone can feel, in a way that someone can understand—that's the challenge.
Love without communication is guessing. To love is to be intentional. To love is to innovate. Inventive love is divine. Without creativity love doesn't exist. Every true lover is a creator. If I'm not creating, I'm not loving…
[Jack's] always trying something new. Jack: history's most innovative lover.
I yawn and roll over. My eyes start fading, but I understand now, I understand. This bittersweet world muddles the message of love, so like Jack…I must innovate in order to communicate it. The call to love is the call to create ways of loving, and I will do just that. Like an unmanned bobsled, here I come! I'll be one of those buoyant rebels who are crazy enough to believe that they can get through to people! With Kristen, with my friends, with this world, I'll conceive new ways to love! Ha-ha! Life is my lab, and invention will happen!"
Josh Reibock
Heroes and Monsters (Baker Books, 2012)