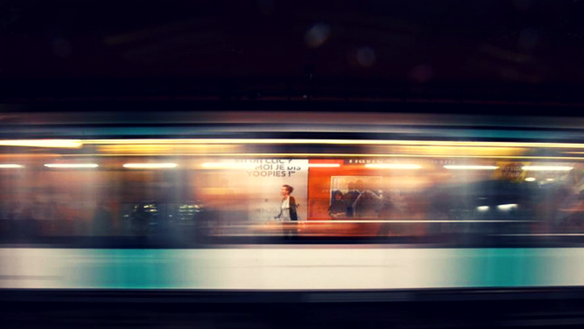 Something all of us can offer
Be good to each other.
Today on my subway ride into work, a man burst through the doors connecting the trains and announced "This is it–I'm going to end it!" and exited as quickly as he came in. I looked to the door, and through the window, I could see him climbing the chains connecting the cars. I screamed, "He's going to Jump!" I ran to the doors, pulled them open and grabbed on to the back of his shirt, "Don't do this," I pleaded, "You can't do this." I pulled on his white t-shirt and got him to come down and back into the car. I linked my arm around his and held on to him.
"What's your name?"
"Tim."
"Tim, I'm Joan. What's going on?" He was hungry. He had no food, no money to get groceries or clean his clothes. He'd just gotten out of the hospital.
Another man, dressed in a suit, listened in on the conversation and came with me as I escorted this man off at the next stop.
But here's the thing that killed me. The thing that upset me more than running towards a man in distress. The thing that's been running through my mind all day. That train was full. FULL. I ran past more than a dozen people to help this guy. My focus was on getting to the man quickly, but in my periphery, people sat still–staring at their phones. No one from the car I was in came to help me pull the guy back into the car, no one held the doors as I straddled with one foot in the car, the other anchoring the door, as I leaned out and held on to this guy. This man–this fellow human–was about to kill himself, and people just looked down at their phones, sat still, didn't act.
Was it fear? Was it complacency? Was it shock? Was it self-protection? I don't know. But what I do know is that someone's life, even a stranger's, is worth a few moments of your discomfort. Just do something. Take action.
So, here's my ask: I know New York is a tough place to be present. I think blocking things out is a way to survive here. We are constantly barraged with folks struggling with mental illness, with people begging for our money, with sights and sounds, and crowds…but let's not let that stop us from SEEING each other. From being present to each other's suffering. Put down your phone, pull down that invisible wall, step into that discomfort and BE GOOD to EACH OTHER.
I kept talking with him as we moved off the train. Just keeping the conversation going, while the man in the suit tried to get help. Tim was pretty insistent that he didn't need help and after what felt like 15-20 minutes, and no responders showing up, he decided to leave. I told Tim I really wanted him to talk to someone, that I was concerned about him. Scared of going back to the hospital, he said he was feeling better after talking, and asked us not to follow him as he walked away. At that point, out of immediate danger, and with help yet to arrive–we watched him walk away.
He clearly had some concrete needs that needed to be met, but I do believe that human connection and being seen was his most urgent need in that moment…and that's something all of us can offer.
~Joan Conroy, New Yorker
Joan Conroy is the Director of Covenant House Faith Community, a post-graduate service year program, where young men and women commit to serving homeless youth at one of several Covenant House sites across America. She is also a part-time massage therapist. In both careers, she has been able to see the transformative power of love and human interaction. She is a member of St. Paul the Apostle Catholic Church in New York City and recently shared this story on her Facebook page because her heart aches for a world that continually needs loving responses. Her story is re-told here with her permission.