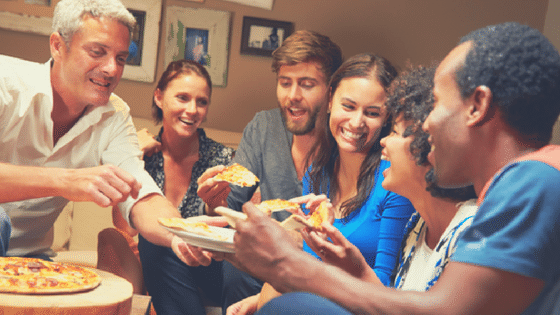 We in the West live with annual rhythms like Thanksgiving, Christmas, Easter, the Super-Bowl, and other national times of celebration, but by and large we have forgotten the ancient art—the practice—of weekly celebration, of deep hospitality, through which God can extend His blessing to the world. The party is his way of helping us to remember Him and keep Him first, but it is also the way God teaches us to live and reach the world.
For the Halters, parties were all we had. Or at least all we were left with.
Although we felt called to a more traditional ministry lifestyle, our son Ryan and his hourly battle with grand mal seizures forced me out of seminary, and out of any normal life besides. Cheryl was locked down at home caring for him and our two daughters, so I had to go back to full-time work as a house painter just to survive. While we were buried in this daily struggle, we thought our divine "calling" to ministry had been revoked, or at least delayed.
But it wasn't.
In a moment of clarity, Cheryl said, "We can at least open our home, have people over for meals, and see what God does…can't we?"
Staring into my coffee, I thought, Well, I suppose we could. And our brood has to eat at least twenty-one meals a week anyway, so…ya, let's give it a go and maybe a few meals anyway.
With that small, divine conversation, our lives changed. Eventually many other lives were changed as well. We started small by having just one party a week with a handful of friends, but then the house quickly filled up. Without changing the mundane grind of working a normal job, managing family, or the obtrusive struggle of caring for a severely disabled son, we encouraged others to party well.
The result? A church was born in Portland.
Ten years later, we moved to Denver bringing all of the same struggles with us—no change at all, actually—and Cheryl reminded me again that we could open our home and party with others. We bought two rocking chairs and had coffee on the front porch. Eventually that grew to happy hours with neighbors. Weekend parties continued and, yep, the house filled up. And again, another church was born, this time with the intentional rhythms of party built into our discipleship process as well as into the natural flow of our lives.
We figured that almost every friend who eventually found Jesus, first found themselves drawn to the festivities in a home.
__________________________
Hugh Halter is a friend of Q Place and author of many books, including his latest small work, Happy Hour, Etiquette and Advice on Holy Merriment. The above is an excerpt from that book, which Hugh gladly permitted us to use here because of his deep belief that believers should be among the most welcoming people on the planet.

Look for more from Hugh on Friday.