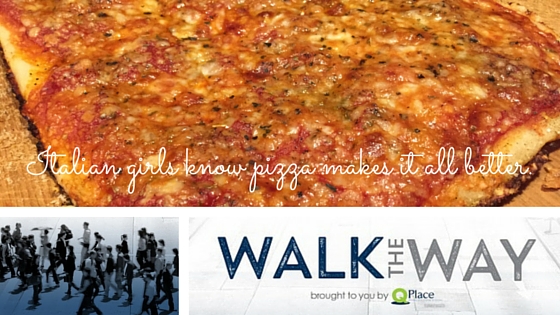 On the Radio – Walk the Way
This is Walk the Way. Brought to you by Q Place. I'm Jeff Klein. And I'm Pam Klein. 
A few weeks after worshipping with us on a Sunday, a new young couple stepped out on a limb and openly shared their struggles.
Products of strict upbringings they got pregnant before they married and then didn't do marriage too well after they did tie the knot. And baby number two was coming.
This disillusioned little family came with their hurts and questions looking for grace, healing and a community.
Nancy said she'd make pizza.
That was awesome. We Italian girls know that pizza makes everything better. And I loved that it was Nancy who offered it—even though she's a single mom, struggling big time financially, with her own hurts and questions, she knew that when it came to loving, she had something to give.
Want to love?
Are you willing? Just offer what you can.
Bring on the pizza! And learn to love with Q Place's new book, "The 9 Arts of Spiritual Conversations" at QPlace.com
____________________________________
Inspired, blessed or challenged by Q Place's Walk the Way radio minute? Ask your local Christian radio station to add Walk the Way to their program line-up with just one click! And make sure to check out the Walk the Way Facebook page. You can join the community there for daily, vibrant spiritual conversations. We hope you'll catch Q Place…on the radio!