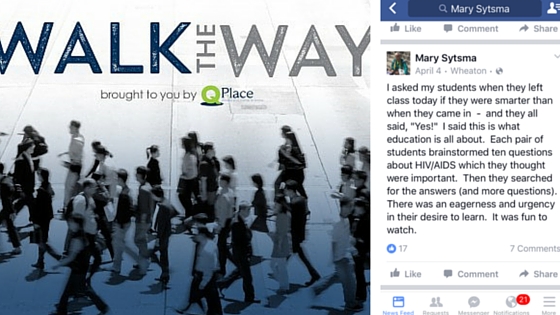 On the Radio – Walk the Way
This is Walk the Way, brought to you by Q Place, I'm Jeff Klein. And I'm Pam Klein.
Our friend, Mary, is a college professor who recently posted this on her facebook page:
I asked my students when they left class today if they were smarter than when they came in – and they all said, "Yes!" I say this is what education is all about.
But what had made it such an exceptionally great day?
Her post continued:
Each pair of students brainstormed ten questions about what we were studying which they thought were important. Then they searched for the answers (and more questions).
Mary's post ended with her observation that she had witnessed an eagerness and urgency in their desire to learn this way and that this was SO MUCH FUN to watch!
What Mary experienced in her classroom is what you can experience when you're having a spiritual conversation with somebody.
Have you ever tried asking questions with someone who believes differently than you do?
For more on this great skill, check out Q Place's new book, "The 9 Arts of Spiritual Conversations" at QPlace.com.
___________________________
Inspired, blessed or challenged by Q Place's Walk the Way radio minute? Ask your local Christian radio station to add Walk the Way to their program line-up with just one click! And make sure to check out the Walk the Way Facebook page. You can join the community there for daily, vibrant spiritual conversations. We hope you'll catch Q Place…on the radio!