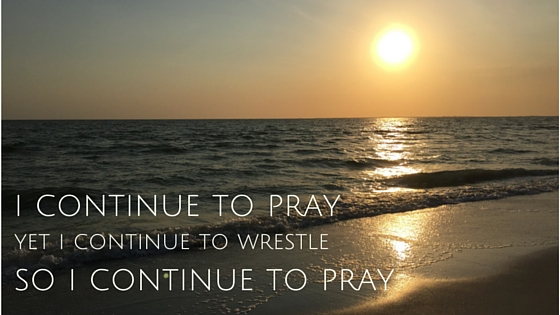 I'll be honest: I'm a bit of a control freak. As a firstborn, I'd like to blame my genetics, but I think there's more going on than birth order. I want things to turn out the way I think they should, and I am rarely without a plan to move things along toward my desired end.
That's why prayer has always been a struggle. I believe in its power. I believe in its effectiveness. I believe it changes things. I just have difficulty declaring my dependence on God to do something I'd like to make happen the way I think would be best.
But I continue to pray, even though my prayers sometimes seem like rants, alternately demanding and pleading with God to do something, anything—Save, already! Why do I approach Him like that? I know I can't make anything happen, and I'm desperate for Him to do what only He can do. I know that when He does, the control freak in me will breathe a sigh of relief.
Yet I continue to wrestle. I want God to do so many things! So many things seem abundantly clear, blatantly obvious to me. They're not only in the best interest of those I'm praying for, but they're in His best interest as well. Why wouldn't God want to answer my prayer to bring the one I care about to a place of understanding of their need for Him and help them grow in their relationship with Him? When looking at what I can see, sometimes He doesn't seem to be at work. He confirms just the opposite, though, in John 5:17, when He says, "The Father is always working, and so am I."
So, I continue to pray. And I'm learning that it's not for God's benefit and it's certainly not just for my unsaved friend's benefit. It's for me. It's my open admission that I am not in control, but I trust the One Who is. He will accomplish all that He intends.
Jenn Nahrstadt
Friend of Q Place