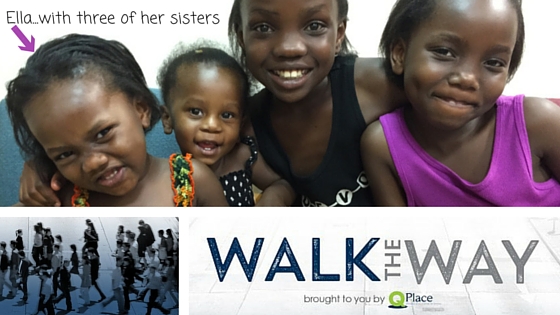 On the Radio – Walk the Way
This is Walk the Way, brought to you by Q Place, I'm Jeff Klein. And I"m Pam Klein.
Beatrice is a vibrant, young mom who was originally a refugee from East Africa. To say that her life has been hard is an understatement! But because of God's grace, she and her five little girls are on a good road now.
On one Sunday morning, right before our worship gathering began, little Ella–the middle one in the lineup–was really giving her mom a hard time. Nothing awful, just what kids do.
That's when I saw my own daughter, Morghin, cross over, scoop Ella up, and plop her right on her lap where Ella seemed content to stay.
Beatrice settled in with her other girls and that was that.
But what I loved most about that seemingly little thing that Morghin did was that it so beautifully illustrated something each one of us can choose to do.
Enter in.
When we notice something or someone we always have a choice.
Think about it. On facebook.com/walktheway.
___________________________________________
Inspired, blessed or challenged by Q Place's Walk the Way radio minute? Ask your local Christian radio station to add Walk the Way to their program line-up with just one click! And make sure to check out the Walk the Way Facebook page. You can join the community there for daily, vibrant spiritual conversations. We hope you'll catch Q Place…on the radio!