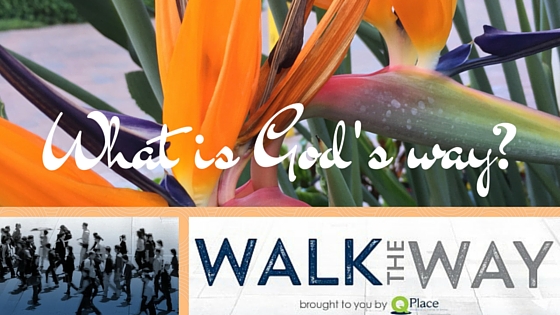 On the Radio – Walk the Way
This is Walk the Way. Brought to you by Q Place, I'm Jeff Klein.
Do our methods match the Master's ways?
When it comes to telling the world about the Gospel we believe in and who it is that we follow, I find the methods chosen by some Christians interesting to say the least.
Is blatant violence, yelling, and anger really spreading the good news of the gospel?
And if the medium is the message, what are we actually saying our message is by acting that way?
Will our snarled faces and defensive postures accomplish anything? Are these God's ways?
There must be a better way.
What is God's way?
The book of John says for God so loved the world.
For God so loved the world.
Do our methods match the Master's?
It's been said that love wins — it certainly won on the cross. Love conquered death.
Love is the message and the method of the resurrection and its ways are pretty simple: to notice, pray, listen, ask questions, welcome and serve.
For more on walking God's way, check out facebook.com/walktheway.
___________________________
Inspired, blessed or challenged by Q Place's Walk the Way radio minute? Ask your local Christian radio station to add Walk the Way to their program line-up with just one click! And make sure to check out the Walk the Way Facebook page. You can join the community there for daily, vibrant spiritual conversations. We hope you'll catch Q Place…on the radio!