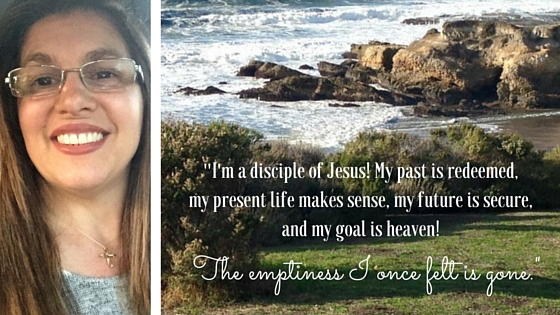 Every once in a while we find it fitting to celebrate what the Lord is doing through Q Place! Denise's story—which you'll read below—is something to celebrate, indeed! She's a believer now—all because someone stepped out to welcome and invite her to a safe and loving conversational environment! In turn, God is now using Denise to share His love. It is our hope that Denise's journey encourages you to consider starting a Q Place.
~ Pamela Klein, Editor, On Q.
My name is Denise, I'm from Brazil. I'm married and have two girls. When we moved to the US from Brazil, my family and I did not know Jesus. After a couple of years living away from Brazil, I was lonely, insecure of my English, and fearful with no direction. I felt like something was missing in my life. My heart felt empty.
I went to Jubilee Reach in Bellevue, WA, to find an English class to practice English. The ESL leader met me with a warm welcome. People at Jubilee Reach were very hospitable and friendly. I loved going to my ESL class! Later, my leader invited me to an "International Bible Study." Agreeing to attend this group changed my life forever. It was a safe and loving environment with no judgment. I will never forget that day.
On March 1, 2015, by God's Grace, I got baptized! The transformation and the power of the Holy Spirit is within me wherever I go! I'm a Disciple of Jesus Christ! My past is redeemed, my present life makes sense, my future is secure, and my goal is heaven! The emptiness I once felt is gone.
Last fall I felt God calling me to provide a safe place for others to practice English and know more about our great Lord and Savior Jesus Christ!!! Susan Burbank and two initiators who attended the Q Place Seattle VITAL Conference joined together with me. We invited parents (whose children attend Bellevue Christian School) to bring their questions about God and read through the Book of Mark using Q Place Bible Conversation Cards. Eight people from China have joined our group. We laugh together and have good conversations about God's love for us in English (even though English is not a first language for the majority of us in the group!) And one member of our group, Christy, recently said that she wants to be baptized! I told her I would be at her side when she is ready.
Joy is spilling out of me. I am thrilled to be on this adventure and it is an honor to share what the Lord is doing around us! Our testimonies are powerful things to help bring people to our Jesus.
Denise Sol
Friend of Q Place