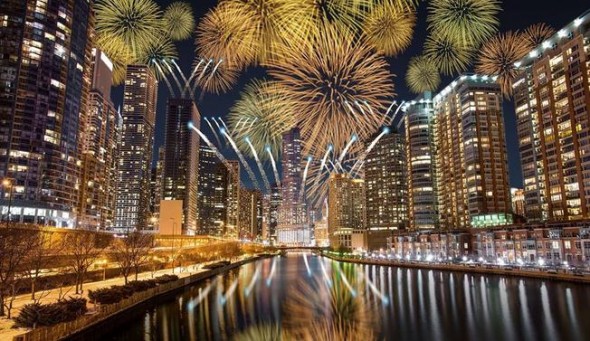 On the Radio – Walk the Way
This is Walk the Way, brought to you by Q Place, I'm Jeff Klein. And I'm Pam Klein.
Tonight, Chicago will have a new, New Year's Eve experience that, they say, will rival the one in Times Square.
I have to admit I'm a skeptical. And maybe a wee bit biased. I grew up just on the other side of the Hudson in New Jersey. You're going have to convince me.
The plans are big: It's going to be along the Chicago River, with three stages for music, and a midnight countdown featuring a giant star rising into the sky, 36 stories up the Hyatt Regency West Tower, culminating in fireworks.
Wow.
Those behind the scenes say it'll become a new tradition for the midwest.
And it probably will be pretty cool.
But tomorrow night, no matter how you choose to ring in the New Year – with your favorite old or new traditions, with friends or family, at home, in Times Square or along the Chicago riverfront – will you pray?
Place 2016 into the hands of the Savior.
Happy New Year from Q Place and Walk the Way.
________________________________________
Inspired, blessed or challenged by Q Place's Walk the Way radio minute? Ask your local Christian radio station to add Walk the Way to their program line-up with just one click! And make sure to check out the Walk the Way Facebook page. You can join the community there for daily, vibrant spiritual conversations. We hope you'll catch Q Place…on the radio!