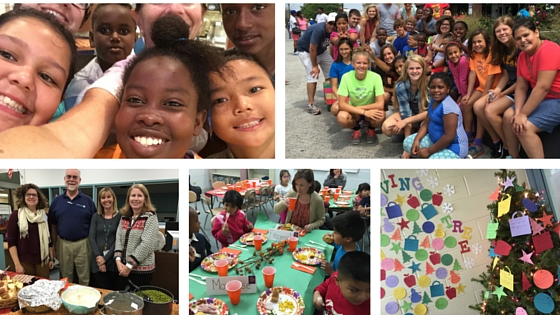 Just before Thanksgiving, I had the chance to be part of providing a Thanksgiving feast for about 75 students at the elementary school where our church meets. It wasn't my first time—this terrific lunch for the kids is something our church and the school have been doing together for five years now!
It's such a privilege for a church to have a close, friendly relationship with a public school. The story of how that relationship has grown over time is really beautiful and is a living testimony that working together works, is consistent with the heart of God, and demonstrates His goodness in untold ways.
Our partnership with the social worker and the English Language Learners teacher at the school is particularly sweet. For a number of years now, we've been supporting their challenging work with international students. During the school year, we run a weekly tutoring and homework club. Over summer vacation, we provide a weekly activity day for these same kids to do "American kids' stuff": play at the park, get ice cream, visit the library, take the train to the city. At Christmas, we coordinate a Giving Tree. And on and on it goes, really.
Twenty-five percent of the population of this elementary school—the place where my church meets every week—are refugees from all over the world: Nigeria. Iran. Iraq. Congo. Nepal. India. Burma. Thailand.
And the Thanksgiving feast—just like the summer swim days or days in Chicago or gifts during our holidays—is for kids who have never had the opportunity to experience these things before.
This in and of itself is very cool. I can hardly describe the joy it is to witness their joy when they get to do things "just like everybody else does." Things that, all too often, they just can't do because of their economic realities or because of cultural barriers.
To witness the beginning of belonging is priceless.
But here's another thing that's super cool: Those of us from my church who are serving these kids, also have the privilege of serving alongside those who aren't necessarily believers themselves! The teachers and tutors at our homework club and summer camps aren't just from our church! The gifts provided by our holiday Giving Tree aren't provided just by "our church"— other parents and teachers shop and provide presents as part of an incredible community!
It is not just Christians who have a heart for the least of these.
The kids loved their 2015 Thanksgiving Feast, and so did the staff and teachers who helped us provide it. And this afternoon, as is my Wednesday custom, I'll join my church friends, some of the teachers, and other community members for our weekly Homework Club.
This is fantastic because serving together builds common ground and allows everyone who participates to experience God's heart— whether they know it or not.
Just as participating in "American things" allows a little refugee child to begin to belong, service can do the same for those who believe differently than we do.
Serving with you,
Pamela Klein
On Q Editor