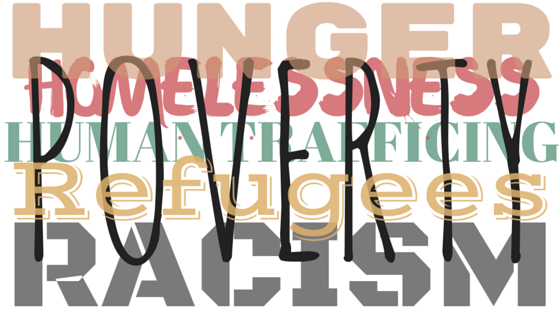 Apathy occurs when you don't think your time, money or effort will make a difference. When you stop listening to the cries of the world or looking at the pain in the world, your emotions and passions dull, and you're as good as dead if you let it continue. Incarnation calls you to courageously keep alert and stay available. Most importantly, you really do have to pick a fight or two.
But likely not the kind you're thinking of.
One day I got home and my wife, Cheryl, really wanted to talk.
"Okay. So we really need to start praying. I took Bri out for lunch today, and I finally heard the real story of her life. She's twenty-one, and her daughter, Jada, is four. She just got evicted, and her car got smashed in a wreck last week. She takes the bus across town to work in a restaurant, and she has no real help with her daughter. Babe, I know we were just about to start another community for our friends, but I just don't want to spend what little time we have doing another suburban group for middle-income adults when thousands of kids—literally kids—have no family and no one to help them get through life. Let's pray about filling our house…"
Although we all want to have clean, safe friends to do Bible studies with, at some point someone has to stop and fill his or her house with truly hurting people. That day, God gave Cheryl and me another fight to pick.
I don't know what fight you need to pick, but I hope you realize that life will move pretty fast and that someday soon, if you don't find something worthwhile to fight for, you'll be fighting for your spiritual life. God created us to come alive and truly grow deep when we are waist deep in the things He cares about. If you want a safe faith, you will never really know God because He doesn't hang out in the shallow end much. He's a deep God and deep calls us out to the deep.
You really need a fight for you…and you need to fight along with other friends. If you get some friends to pursue a common struggle, you will find a level of community that you could never find by just looking for friends. And our ability to change the world isn't just based on us. It's based on our ability to draw others into the same fights we fight. It's called leverage, and it makes every little relationship, cent and second count in real time.
As you consider a fleshy life that matters, ponder who you will fight alongside and what you will fight for. Find things that make you mad or sad, to the point where your blood boils and tears fall, and get a plan to move forward. Stick with it and fight with friends. Your heart will come alive and your credibility with them will grow—and God will get the glory.
The best witness isn't telling people concepts about God. The best witness of the gospel happens when people see people sticking up for those who are nameless, voiceless, or powerless. Every Jesus follower should be an activist, an abolitionist, or at least an advocate. And every Christian community should find something to make a ruckus about together. As Matthew 5:16 says, "In the same way, let your light shine before others, that they may see your good deeds and glorify your Father in heaven." 
If you live horizontally, people will look vertically to God.
Hugh Halter
Author and founder of Missio
Friend of Q Place