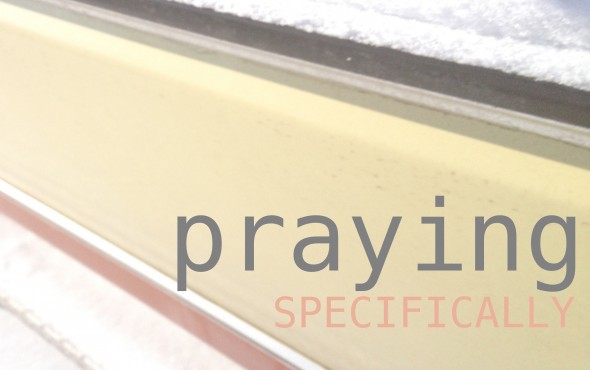 It's hard to overemphasize the power of praying intentionally for specific people in their specific circumstances. Personal prayer engages our hearts in a way that doesn't happen when we pray in general terms:
Praying because we've noticed and listened and have a sense of how to pray, allows us to see God work step-by-step.
Praying specifically opens our hearts to love someone in ways we never imagined as the details of their lives grow in importance to us.
Praying for someone by name in the context of their life, moves our prayers from generic and general to genuine, compassionate and particular.
Could praying specifically be the heart of intercession?
Nineteenth-century evangelist George Müller was a godly man known for his tenacious practice of purposeful prayer. He believed that prayer had the power to influence people toward true faith in Christ and actively lived out what he professed. Müller prayed faithfully, he prayed daily, and he prayed – by name – for people who didn't yet know Jesus.
In his book, George Müller: Man of Faith and Miracles, author Basil Miller recounts Müller's experience of praying for five not-yet believers in his life:
"In November 1844, I began to pray for the conversion of five individuals. I prayed every day without a single intermission, whether sick of in health, on the land or on the sea, and whatever the pressure of my engagements might be. Eighteen months elapsed before the first of the five was converted. I thanked God and prayed on for the others. Five years elapsed, and then the second was converted. I thanked God for the second, and prayed on for the other three. Day by day I continued to pray for them, and six years passed before the third was converted. I thanked God for the three and went on praying for the other two."
Müller's passion, commitment and deep love for those He desires Christ for, inspires me.
But wait – there's more.
In an interview near the end of his life, Müller was asked how much time he had spent in prayer for the last two unsaved people on his five-person list. He humbly and earnestly responded, "I have been praying every day for fifty-two years for two men, sons of a friend of my youth. They are not converted yet, but they will be! How can it be otherwise?"
George Müller died in 1898 and did not live to see the day when the two young men for whom he had prayed over half a century turned to God, but they did. God's commitment to the prayers of a faithful servant outlived the servant and ultimately Müller's prayers were answered.
Let me say again how inspired I am by Müller's faithfulness and his story of lasting, committed, diligent specific prayer – each of us would do well to emulate it. But even more so, I love what Müller's story tells me about the character of our God. Ultimately, HE  is faithful and that's why we can turn to Him in prayer in the first place.


John Crilly
QPlace National Field Director