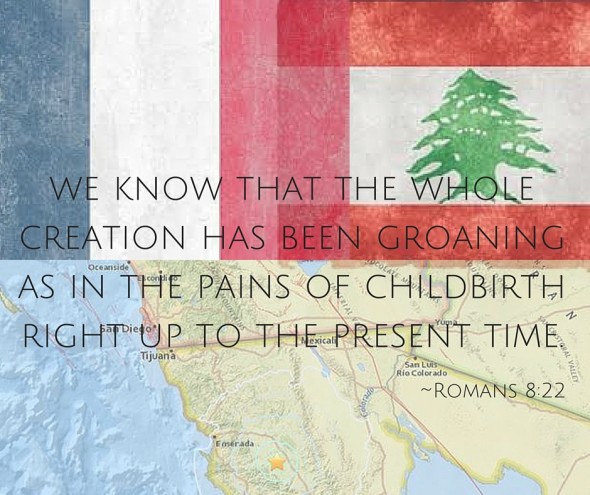 On Thursday, November 12, twin blasts hit Beirut, Lebanon's al-Barajneh district, resulting in the deaths of at least 43 people, with 239 more, injured.
On Friday morning, November 13, a magnitude-4.3 earthquake struck Baja California, Mexico.
On Friday evening, November 13, three teams of terrorists acting in unison carried out a coordinated assault in Paris. As of Sunday afternoon, the death toll rose to 132 and at least 352 people were wounded.
All of this before the weekend really even got started.
As the world returns to the routines of "normalcy" this Monday morning, the Q Place team is continuing to pray. We trust in a faithful, just, good and sovereign God who loves this world so much that He sent His only Son to save it, offering His salvation to all who would believe. It is our prayer that every Jesus follower would be a shining light in this darkness, so that people would be drawn to Him and would discover the reality of a relationship with Him, having His strength and calming presence—even in the most terrifying scenes—and being in His presence for eternity.
God is our refuge and strength,
a very present help in trouble.
Therefore we will not fear though the earth gives way,
though the mountains be moved into the heart of the sea,
though its waters roar and foam,
though the mountains tremble at its swelling. 
There is a river whose streams make glad the city of God,
the holy habitation of the Most High.
God is in the midst of her; she shall not be moved;
God will help her when morning dawns.
The nations rage, the kingdoms totter;
he utters his voice, the earth melts.
The Lord of hosts is with us;
the God of Jacob is our fortress. 
Come, behold the works of the Lord,
how he has brought desolations on the earth.
He makes wars cease to the end of the earth;
he breaks the bow and shatters the spear;
he burns the chariots with fire.
"Be still, and know that I am God.
I will be exalted among the nations,
I will be exalted in the earth!"
The Lord of hosts is with us;
the God of Jacob is our fortress. 
Psalm 46, NLT