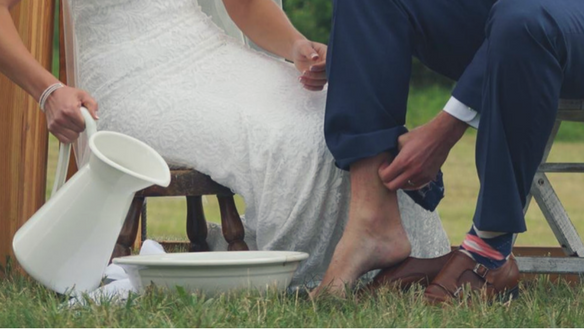 Tommy 
When Tommy and Emily got married, they decided that they wanted to wash each other's feet during their ceremony. They had plenty of reasons for wanting to do so, but this one was at the top of their list: Tommy's extended family would all be there to celebrate with them, but they were not believers—Tommy and Emily wanted them to see what serving one another actually looked like.
After the wedding, Tommy shared that as much as his focus was on his beautiful bride during their entire service, he couldn't help but hear the grunts and throat-clearing of his grandmother in the front row every time the pastor mentioned God, the Bible, or Jesus. And then, during their foot-washing, he confessed to almost shaking his own head when he heard his grandma exclaim,  "Why are they doing this? This is too much!"
How did Tommy respond to his family—especially his grandmother? He said he told her—and them—this: "We want our marriage to be a picture to the world of what Jesus did for us. Jesus was the ultimate servant and became the ultimate sacrifice, giving up himself for us."
Hugh and Cheryl
Hugh and his wife, Cheryl, recently moved their entire family to an economically depressed town on the outskirts of St. Louis, MO.
On purpose.
They had a lofty goal: to step in, help their new town get back on its feet, and empower others to organize and redevelop it.
All in the name of Jesus.
And wouldn't you know it? The work has been so compelling that a local business owner donated the old Post Office building in the town to their cause. It will become a central spot for the community—a space for gatherings, eating together, and connection.
But as contractors and workers come to do the work, each repeat the same questions: "Hugh! Why are you doing this? Do you actually think you'll make any money on this?"
Hugh's answer is always the same: "It's because of my King Jesus."
An unlikely group
The news from an island off the coast of Australia was horrifying: Children were starving and people were killing themselves. Who was suffering so much? Refugees. They had fled their own countries due to war. For one reason or another, the Australian government would not allow them over their border.
In response, some Christians decided one day to gather inside the main government building and pray. The group included missional thinker Michael Frost, some nuns, and a few others, each of them pouring out their hearts to God, beseeching him to change the situation and relieve the suffering. They did this all day long. When they were told it was time to leave, they refused.
So the police came and they were arrested. But as an officer escorted Frost to his vehicle, he asked why the little group had chosen to do this.
Frost's response? "Because I follow Jesus."
Compelling lives
In Colossians 4, Paul asks for prayer from the church there that he would be bold and clear in his presentation of the gospel. Certainly, those anointed by God to be evangelists (like Paul) need that kind of prayer.
But then Paul continues and addresses everyone else:
Be wise in the way that you act toward outsiders; make the most of every opportunity. Let your conversation be always full of grace, seasoned with salt, so that you may know how to answer everyone.
Wise in action. Making the most of opportunities. Full of grace. Salty. With good responses. It's almost as if Paul views every believer as an "ordinary evangelist," whose "job" it is to live somewhat like he did—boldly and clearly, compelling enough so that others around them would be prompted to ask Why?
Tommy and Emily's choices made his family wonder . . .
Hugh and Cheryl's actions are making an entire town ask Why?
Frost and his crew made the government raise an eyebrow.
What is it about your life that might cause someone to ask just what you're up to?